HIGH FIVE–Interview: Food Retail from a European Perspective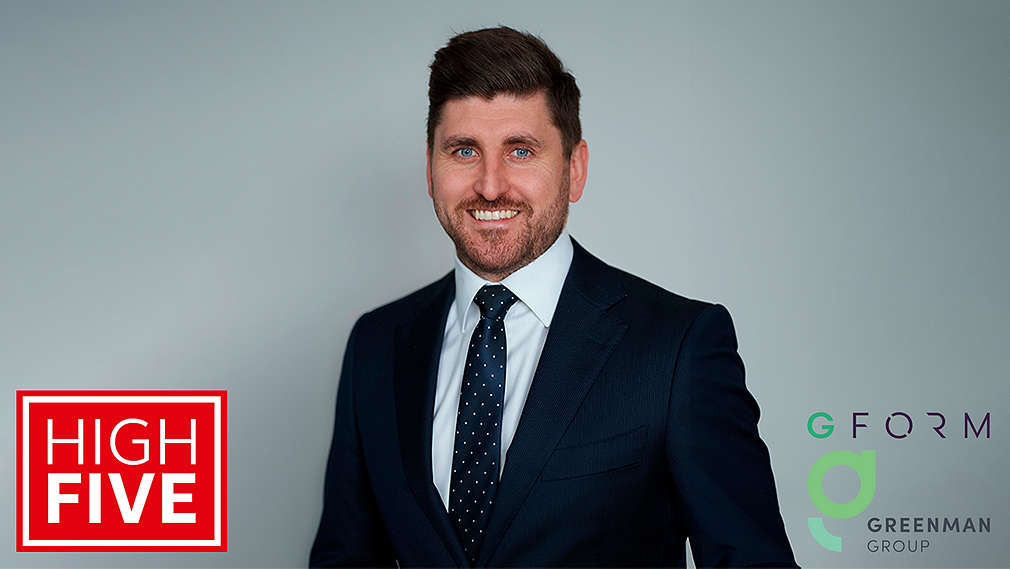 One topic, one industry leader, five questions and answers – That's HIGH FIVE! Happy to hear from James McEvoy from the European investment platform Greenman his point of view on food retail, ESG, revitalization and much more. Thank you for your insights! Susanne Gehle, Director Real Estate from Kaufland Germany conducted the interview.
In recent years, Greenman has become one of the market-leading real estate investment companies in Europe. What makes the Greenman Group successful?
James McEvoy: The Group's funds invest exclusively in the acquisition of retail parks and standalone properties leased by leading food retailers. Food retailing benefits from an extremely stable demand situation, which makes it particularly resilient to economic downturns or other external influences.
At GFORM, we began re-evaluating the future prospects of our real estate portfolio several years ago and have built long-term partnerships with some of Germany's leading food retailers and retail real estate developers over the past several years.

In addition, we have successfully implemented ESG initiatives and committed to reducing the carbon footprint of our portfolio to the point where combined net carbon emissions will be zero by 2050. This enables us to ensure that our properties remain future-proof, that long-term tenant retention is guaranteed and that, together with our tenants, we can optimize property performance.

Digitization is one of the main trends in the real estate industry. How is GFORM positioning itself in this area and what do you think will be the defining digitization formats in commercial real estate in the future?
James McEvoy: Developing a truly "smart" building that connects with its users, such as tenants, landlords and customers, requires many different touchpoints. We work closely with our affiliate companies in IT and technical asset management to integrate technology, data and other functions into our retail centers. Our goal here is to integrate new and existing technologies as well as tools that act as the property's "brain", enabling efficient control of building services to optimize their performance and minimize occupancy costs.

Using AI, sensors, and computer vision apps, we collect live data from the physical property, giving us the ability to gain deeper insights into our buildings. For example, the data provides us with insights on how to reduce heat loss and improve efficiency to make strategic decisions for our buildings, which ultimately impacts the value of the property.

Sustainability and ESG are essential criteria in the future valuation of real estate. What is Greenman's sustainability strategy and which ESG metrics will have a significant impact on real estate investment?
James McEvoy: Due to the EU Disclosure Regulation and OPEN's classification as the largest Article 9 fund in Europe, our commitments include improving building energy efficiency, building infrastructure for energy generation and sustainable food production, and supporting nonprofit organizations working to educate on healthy food.

Greenman's ambition is for each property to generate more energy than it consumes. We aim to achieve this by installing photovoltaic systems on the roofs and parking lots of our 87 properties. Currently, over 20,000 square meters of roof space have already been fitted with PV panels by our affiliate company Greenman Energy, as well as four hyper-fast charging stations for e-cars have been put into operation.

The growing awareness that real estate can make a significant impact through environmental and future-proof investments, such as green buildings, will contribute to stable business in the long term and create added value for real estate, tenants and investors. Digital tools, smart building components and data analytics are therefore critical tools for achieving ESG goals, which in turn will increase property value. In addition, ESG offers investors and developers the opportunity to consider the impact of their properties on the community, not only through the realization of climate-friendly buildings, but also through a comprehensive consideration of social aspects.

The Greenman Group has grown steadily over the past decades. What are the most important success factors for this?

James McEvoy: While retail property management remains our core business, the Group's strategic focus has increasingly shifted to innovative, digital solutions in recent years in response to changing retail structures and tenant and customer needs. We take a holistic and collaborative approach to managing our properties and leverage the expertise and experience of our affiliate companies to proactively diversify into technology-enabled projects.

Through the combination of ten closely aligned companies, we provide all the activities necessary to operate our funds. In doing so, we establish and acquire new businesses that support the growth of our funds and operations, while continuously striving to improve the skills and experience of our employees. With the expansion into Poland, the Group grew by 57% last year. Entering new markets and countries is an exciting opportunity and lays the foundation for our growth strategy.

At GFORM, we place a strong focus on building and maintaining long-term relationships with our anchor tenants - close and personal interaction is of tremendous importance to us. Over the past two months, our management team has worked intensively with our tenants, visiting over 30 of them to discuss our common goals in workshops, aligning ESG strategies, agreeing green leases, and discussing strategies to support their expansion plans in the long term.

Revitalization is becoming more important than ever. How is Greenman positioning itself here and what is the significance of food retail locations?

James McEvoy: OPEN pursues a "buy and hold" strategy. We ensure that each property acquired for the fund remains in the fund throughout its lifetime. The goal is that OPEN will still exist in 2050, and with it, every property included in it. We want to ensure that any property that does not consistently meet our performance expectations is converted and redeveloped and used in a way that can meet our performance expectations - using the "convert not demolish" approach. Because one of the biggest problems with redevelopment is that buildings are largely made of concrete. If you demolish buildings and rebuild them, you release a lot of embodied carbon emissions, which often account for 20 to 50 percent of a building's total carbon emissions.

Food retail locations therefore play a decisive role, as they are not only of great importance in providing amenities to the local population, but also have a significant influence on the social and economic life of a community. Revitalized food retail locations help to promote sustainable urban development and increase the attractiveness of urban areas. The combination of environmental aspects, social responsibility and economic efficiency makes revitalization in the food retail sector an important building block for sustainable urban and neighborhood development.

---
The Greenman Group ('the Group') is a collection of ten closely aligned subsidiary corporations. The group was formed in 2020, is headquartered in Dublin, Ireland, and its subsidiaries employ c. 150 people operating in 6 countries undertaking activities across 5 distinct business divisions: financial services; real estate; food & agriculture; utilities; and integrated networks.
Greenman Investments is the Group's market-leading, sector specific, grocery real estate investment fund manager. Greenman Investment's funds invest exclusively in food-anchored retail parks and retail warehouses. The Group's funds own real estate worth c. €1.35 billion across France, Germany, and Poland.

GFORM, a subsidiary of the Greenman Group, is a market-leading full-service real estate and financial manager focused on food-anchored commercial real estate in Germany. GFORM currently manages more than €1.13 billion in assets on behalf of various platforms and funds, including the flagship fund Greenman OPEN. GFORM's managed portfolio includes Germany's largest retailers and GFORM works closely with some of the country's leading retail real estate investors and developers.